http://gazetteallods.wordpress.com/
Hello everybody,

I would like to introduce you to the Gazette!

Gazette is a magazin dedicated to Allods. You'll find News, Dominion , information about new patches and a lot more ! Since October there is a new post every day.

But the Gazette exists longer than that…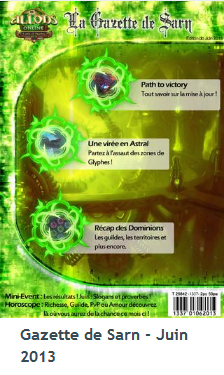 A few month ago, I thought of an Allods newspaper, that should be a useful source of information for players.

It all started with me posting a magazine at the french guildportal.

But this format was a bit unhandy and a lot of work.

So Gazette moved to "WordPress". It is very easy to post things and you have a good overview of everything. But everything was in french.

When the servers merged Gazette didn't want to stay french because it's New Frontier and thats an european server. So I decided to ask Teppisch if he would be interested in helping. He accepted the invitation and said "Yes, sure !  ". So now he joined our team as a translator for german and english !

The other Team members are :


"Hylde la catin" : Expert for news from russia. As soon as there are news , we receive them. Of course this also includes the new patch 5.0.
"Erendel" : Specialized for Dominion. Analyzing battles, doing a weekly review of every fight and the results.
"ObscureClarte" : I'm responsible for the Gazette itself. Looking for future Events and posting things too, sometimes interviews players and much more…

We would be very happy if we can find new readers. Of course, the project needs to fully start, but after this there's nothing left in our way to have a multilingual newspaper for Allods !

Remember, that the Gazette is from players for players. If there is something you need to talk about or if you have suggestions/ideas, feel free to talk to us !

See you soon !